Posts for: February, 2020
By Michael Glouse, DDS
February 19, 2020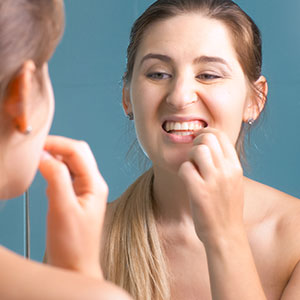 As a saying, "Necessity is the mother of invention" is no more appropriate than when you have something caught between your teeth. And humans, as inventive and creative as we are, have used a weird assortment of items—usually within arms' reach—to dislodge a pesky bit of food.
According to a recent survey, more than three-fourths of Americans admit to using a number of "tools" to clean between teeth including twigs, nails (the finger and toe variety), business cards or (shudder!) screwdrivers. And it's one thing to do this alone, but among dinner companions and other folk it's a definite faux pas.
Usually, it's smarter and more economical if you can use a particular tool for many different applications. But when it comes to your teeth, you should definitely go with a "unitasker" designed specifically for the job: dental floss. It's not only the safest item you can use to clean your teeth, it's specifically designed for that purpose, especially to remove disease-causing plaque from between teeth.
Of course, the reason many of us use alternate items for cleaning between teeth is that they're the closest ones at hand. You can remedy this by keeping a small spool (or a short length) of dental floss or floss picks handy for those moments you encounter a wedged piece of food. In a pinch, you can use a rounded toothpick (better for your gums than the flat variety).
At home if you find flossing difficult, consider using a water flosser. This handheld device emits a pulsating stream of pressurized water that loosens and flushes away plaque and bits of food remnant. It's ideal for people who have a hard time maneuvering floss or who wear braces, which can block regular floss thread from accessing between teeth as fully as possible.
In any case, use the other "tools" at hand for whatever they're intended. When it comes to what's best for your teeth, use floss to keep the in-between clear and clean.
If you would like more information on best oral hygiene practices, please contact us or schedule an appointment for a consultation.
By Michael Glouse, DDS
February 09, 2020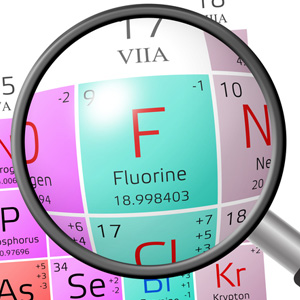 In the early 1900s, a Colorado dentist noticed his patients had fewer cavities than the norm. He soon found the cause: naturally occurring fluoride in their drinking water. That discovery led to what is now heralded as one of the most important public health measures of the last century — the use of fluoride to prevent tooth decay.
While you're most likely familiar with fluoride toothpaste and other fluoridated hygiene products, there are other sources of this chemical you should know about — especially if you're trying to manage your family's fluoride intake. Here are 3 of these common sources for fluoride.
Fluoridated drinking water. Roughly three-quarters of U.S. water utilities add fluoride to their drinking water supply under regulations governed by the Environmental Protection Agency. The federal government currently recommends 0.7 milligrams of fluoride per liter of water as the optimum balance of maximum protection from tooth decay and minimal risk of a type of tooth staining called dental fluorosis. You can contact your local water service to find out if they add fluoride and how much.
Processed and natural foods. Many processed food manufacturers use fluoridated water in their processes. Although not always indicated on the packaging, there are often traces of fluoride in cereals, canned soups, fruit juices or soda. Many varieties of seafood naturally contain high levels of fluoride and infant formula reconstituted with fluoridated water can exceed the level of fluoride in breast or cow's milk. Beer and wine drinkers may also consume significant levels of fluoride with their favorite adult beverage, particularly Zinfandel, Chardonnay or Cabernet Sauvignon wines.
Clinical prevention measures. As part of a child's regular dental treatment, dentists may apply topical fluoride to developing teeth, especially for children deemed at high risk for tooth decay. This additional fluoride can be applied in various forms including rinses, gels or varnishes. The additional fluoride helps strengthen a child's developing enamel and tooth roots.
How much fluoride your family ingests depends on a number of factors like your drinking water, food purchases and dental hygiene products and procedures. If you have any concerns about how much fluoride you're encountering in your daily life, please be sure and discuss them with your dentist.
If you would like more information on fluoride's benefits for dental health, please contact us or schedule an appointment for a consultation. You can also learn more about this topic by reading the Dear Doctor magazine article "Fluoride & Fluoridation in Dentistry."