Posts for: December, 2017
By Michael Glouse, DDS
December 18, 2017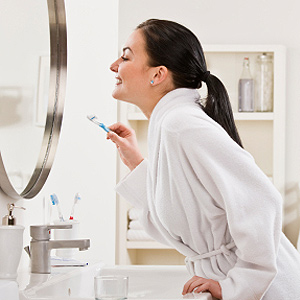 We all experience the occasional bout of bad breath from dry mouth or after eating certain foods. Chronic halitosis, on the other hand, could have an underlying health cause like periodontal (gum) disease, sinus infections or even systemic illnesses like diabetes. Anyone with persistent halitosis should undergo a thorough examination to determine the root cause.
If such an examination rules out a more serious cause, it's then possible the particular population of bacteria that inhabit your mouth (out of a possible 600 or more strains) and your body's response makes you more susceptible to halitosis. After feeding on food remnants, dead skin cells or post-nasal drip, certain types of bacteria excrete volatile sulfur compounds (VSCs) that give off an odor similar to "rotten eggs."
In this case, we want to reduce the bacterial population through plaque removal, which in turn reduces the levels of VSCs. Our approach then is effective oral hygiene and perhaps a few cleanings — the basics every person should practice for good oral health — along with a few extra measures specific to chronic halitosis.
This calls for brushing and flossing your teeth daily. This will remove much of the plaque, the main breeding and feeding ground for bacteria, that has accumulated over the preceding twenty-four hours. In some cases, we may also recommend the use of an interproximal brush that is more adept in removing plaque clinging to areas between the teeth.
You may also need to pay special attention in cleaning another oral structure contributing to your bad breath — your tongue. The back of the tongue in particular is a "hideout" for bacteria: relatively dry and poorly cleansed because of its convoluted microscopic structure, bacteria often thrive undisturbed under a continually-forming tongue coating. Simply brushing the tongue may not be enough — you may also need to use a tongue scraper, a dental device that removes this coating. (For more information, see the Dear Doctor article, "Tongue Scraping.")
Last but not least, visit our office for cleanings and checkups at least twice a year. Professional cleanings remove bacterial plaque and calculus (hardened plaque deposits) you're unable to reach and remove with daily hygiene measures. Following this and the other steps described above will go a long way toward eliminating your bad breath, as well as enhancing your total oral health.
If you would like more information on treating chronic bad breath, please contact us or schedule an appointment for a consultation. You can also learn more about this topic by reading the Dear Doctor magazine article "Bad Breath: More Than Just Embarrassing."
By Michael Glouse, DDS
December 10, 2017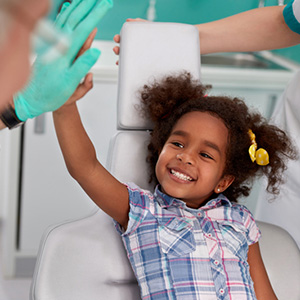 As a parent you want your child to have the best possible start in life. One of the greatest gifts you can provide them is a positive experience in dental care—especially visiting the dentist.
Unfortunately, not all children are so lucky. Visiting the dentist for them is foreign and forbidding; it leaves such a negative impression they may avoid the dentist later in life even when faced with acute problems.
It doesn't have to be like that. Here are 3 ways you can help your child have a great experience at the dentist.
Start dental visits early. The best time to begin dental visits is before your child's first birthday as their teeth begin to erupt. Dental diseases like tooth decay can begin as early as two months so it's vital to detect any problems as soon as possible. Establishing an early relationship with your child's dentist benefits you too with helpful tips and advice from them on dental care at home. And, children visiting the dentist early are more likely to become accustomed to it as a routine part of life, and more likely to continue the habit on their own.
Find the right dentist. The right dental practice can make all the difference in the world for your child's comfort level. Parents often choose a pediatric dentist who specializes not only in dental care for children and adolescents but in how to engage with them and put them at ease. The key, though, is to find a dentist and staff who work well with children and understand how to make them feel at home in their office.
Display a positive attitude. You've probably already noticed how your child picks up on your feelings in different situations—which often affect how they feel and act too. So be sure when you visit the dentist with them you have a positive, proactive attitude, ready to partner with their provider in treatment and prevention measures. And above all display a calm and relaxed manner: your child will be more apt to follow your cue and relax too.
If you would like more information on providing great dental care for your child, please contact us or schedule an appointment for a consultation. You can also learn more about this topic by reading the Dear Doctor magazine article "Taking the Stress out of Dentistry for Kids."