Posts for: January, 2019
By Michael Glouse, DDS
January 15, 2019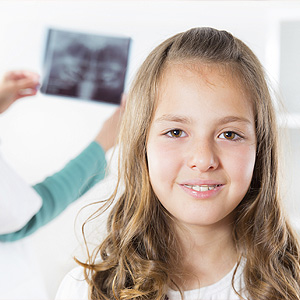 It's important for your child's current and future health that we watch out for tooth decay. Taking x-rays is a critical part of staying one step ahead of this common disease.
But while x-ray imaging is commonplace, we can't forget it's still a form of radiation that could be potentially harmful, especially for a child whose tissues are rapidly developing. We must, therefore, carefully weigh the potential benefits against risk.
This concern has given birth to an important principle in the use of x-rays known as ALARA, an acronym for "As Low As Reasonably Achievable." In basic terms, we want to use the lowest amount of x-ray energy for the shortest period of time to gain the most effectiveness in diagnosing tooth decay and other conditions.
A good example of this principle is a common type of radiograph known as a bitewing. The exposable x-ray film is attached to a plastic devise that looks like a wing; the patient bites down on it to hold it in place while the x-ray exposure takes place. Depending on the number of teeth in a child's mouth, an appointment usually involves 2 to 4 films, and children are typically spaced at six months apart. Frequency of x-rays depends on your child's tooth decay risk: lower risk, less need for frequent intervals.
Each bitewing exposes the child to 2 microsieverts, the standard unit for radiation measurement. This amount of radiation is relatively low: by contrast, we're all exposed to 10 microsieverts of background radiation (natural radiation occurring in the environment) every day or 3,600 microsieverts annually. Even two appointments of four bitewings each year is a fraction of a percent of the background radiation we're exposed to in the same year.
This conservative use of x-rays is well within safe parameters for children. As x-ray technology continues to advance (as with the development of digital imaging) we anticipate the exposure rate to diminish even more. Prudently used, x-rays remain one of our best tools for ensuring your child's teeth are healthy and developing normally.
If you would like more information on the use of x-rays with children, please contact us or schedule an appointment for a consultation. You can also learn more about this topic by reading the Dear Doctor magazine article "X-Ray Safety for Children."
By Michael Glouse, DDS
January 05, 2019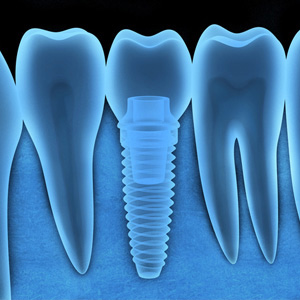 While many people still consider dental implants the "new kids on the block" in dental restoration, they're now in their fourth decade of use. And since their inception implant technology has continued to improve and revolutionize how we replace missing teeth.
Implants are a different "species" compared to other restoration methods. To be precise, an implant is a tooth root replacement—usually a titanium metal post imbedded directly into the jaw bone. Titanium is not only a biocompatible metal, but bone cells naturally grow on its surface to create a strong and durable hold. It's this secure hold that's most responsible for implants' high long-term success rate.
But we should also credit some of this success to the steady stream of advances over the years in implant construction and supporting technologies. For one thing, we're now more accurate and precise with implant placement thanks to advances in computer tomography (CT) and cone beam CT (CBCT) scanning.
These digital processes merge a series of images taken by a special camera to form a three-dimensional model of the jaw. We can manipulate this model on a computer monitor to view it from different vantage points. It can help us locate and avoid anatomical structures like nerves and sinuses when determining where to place a future implant. CT and CBCT are especially useful when there's a concern about adequate available bone, a necessity for stable implants.
Technology has also improved how we create surgical guides, often used during implant surgery to obtain the most accurate results. Surgical guides are custom-made devices that fit over the teeth with the drilling locations for the implants marked on them. Recent advances in 3-D printing have made these guides even more accurate so that they fit more securely in the mouth. This greater stability increases their accuracy during the drilling sequence during surgery.
These and other advances are helping ensure every implant is a success story. The end result is both a functional restoration and a beautiful smile.
If you would like more information on dental implants, please contact us or schedule an appointment for a consultation. You can also learn more about this topic by reading the Dear Doctor magazine article "How Technology Aids Dental Implant Therapy."